Our economists believe the global economy will enter a recession in 2023
There's little evidence that timing the markets during a recessions reward investors over the long run.
Advisers can play an important role in putting a recession in perspective.
Recessions can fuel fear among clients, causing them to second-guess their long-term investment strategies right when markets are at their most volatile.
With a global recession on the horizon, now is a good time for advisers to proactively address the potential impact of a downturn with their clients and remind them to place their long-term objectives ahead of any worries about near-term turbulence.
Here, we explore some key themes to help guide your client conversations as the recession begins to bite.
This recession will differ from previous slowdowns
Our economists' base case view is for the global economy to enter a recession1 in the second half of 2023. For some investors, this may sound like an opportunity to take action and protect their portfolios.
Yet tactical attempts at timing recessions are rarely successful, in part because each downturn is unique and rarely follows the same trajectory as those that preceded it. The pandemic-induced global recession in 2020 was sharp but short-lived; whereas the 2007-2009 global financial crisis was marked by deep job losses and a slow recovery.
Neither of these scenarios reflects the current situation in the global economy, which we believe was stronger last year than in a typical year before a recession. Unemployment, for example, is significantly lower, on a global basis2 , coming into this recession than in previous downturns, while output and industrial activity are both slightly higher (see chart).
Taken at face value, a stronger footing into a recession could result in a milder downturn.
Global recessions versus now

Notes: Global recession years were 1975, 1982, 1991, 2009 and 2020. Year before includes the year before each, excluding 2019. Vanguard calculations are as at 31 October 2022. The typical global recession reflects the median result for each category in the global recession years.
Sources: World Bank, British Petroleum Statistical Review of World Energy, OECD, Federal Reserve Bank of St. Louis FRED database, OeNB, CPB Netherlands Bureau for Economic Policy Analysis, UNCTAD and Our World in Data, as at 31 October 2022. Global unemployment data and years of global recession are from Kose, Sugawara and Terrones (2020).
A global recession with regional differences
Overall, we expect the global recession to be a mild one, but the impact will vary from country to country. In the euro area, Germany and Italy will likely underperform other euro-area countries, given their energy-intensive industrial sectors.
Our latest models show the euro-area economy entered recession in the fourth quarter of 2022. Higher energy prices, tighter financial conditions, depressed sentiment and weakening global growth have all weighed on economic activity, and we don't expect positive growth until the second half of 2023. However, there are risks to the downside, including the prospect of a 'double-dip' recession in the second half of the year given that the European gas supply will be starting from a much lower base than in 2022 and financial conditions will be tighter.
Despite the slowdown, we expect the ECB, along with other central banks, to continue raising interest rates through the early part of this year before pausing as inflation falls and job losses mount. Importantly, we expect inflation will remain well above the 2% target level set by central banks until well into 2024 or 2025, with interest rates also likely to remain elevated during this time.
With so many uncertainties about what lies ahead, both domestically and abroad, euro-area investors should expect more market volatility in 2023 as the slowdown takes hold and earnings fall. Holding a globally diversified portfolio is one way that investors can protect themselves from the recession's impact on any single economy, by spreading risk across different geographies, asset classes, currencies and sectors.
Markets tend to recover ahead of economic growth
Recessions and markets don't tend to move in tandem. The onset of a recession often leads to a sharp fall in share prices, but usually stocks fall well in advance of an actual recession. They also tend to recover more quickly than the economy—usually before the recession is over.
Stocks start to recover before recessions end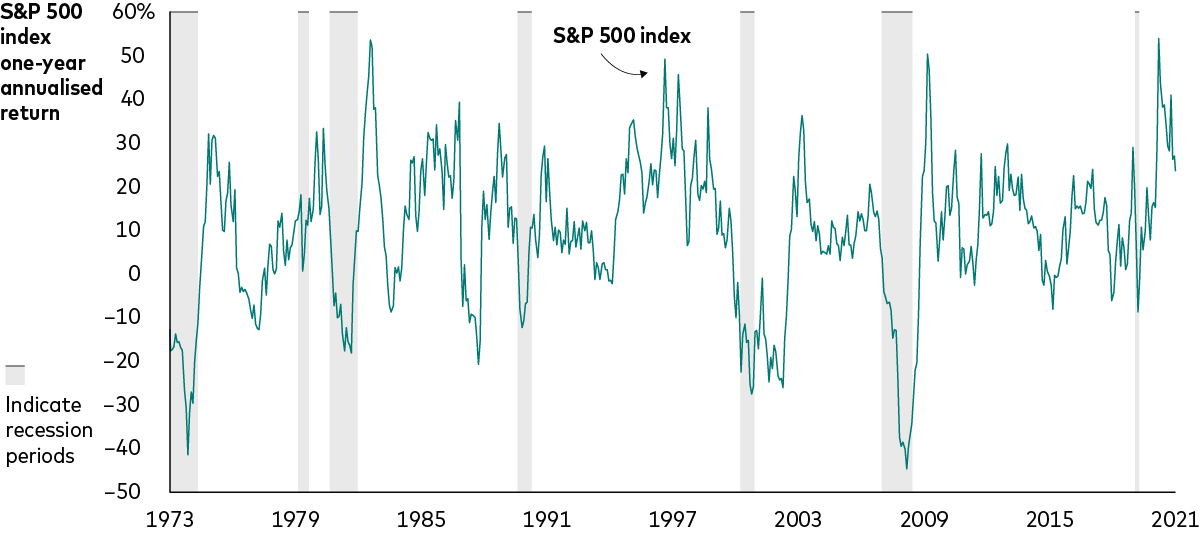 Sources: Vanguard calculations as of 31 December, 2021, using data from Refinitiv.
Past performance is no guarantee of future returns. The performance of an index is not an exact representation of any particular investment, as you cannot invest directly in an index.
The chart above shows the one-year return of the S&P 500 Index in US dollar terms from 1973 to 2021, including its performance during the period's seven US recessions, represented by the grey bars.
In all cases, US shares began to recover even as the economy continued to shrink, as investors began anticipating a return to economic and corporate earnings growth. The length of time it takes for shares to begin to recover varied with each recession, from as little as two months after the start of the pandemic-related downturn (2020) to nearly 1.5 years during the great financial crisis (2007-2009).
It's impossible to predict how long the global slowdown will last, or when stock markets will begin to recover. Additionally, not all economies will feel the recession's impact equally, nor will the pace of recovery be the same across markets.
With so many uncertainties around the timing of market movements during periods of recession, we believe investors are better off taking a long-term view and avoiding tactical shifts to their portfolio allocation. Instead, we think a strategic approach to asset allocation, such as that used by Vanguard's multi-asset ETFs and model portfolios, offers investors the best chance of investing success, in all market conditions, over the long run.
Brighter outlook for multi-asset strategies
A recession is not necessarily a bad thing for multi-asset portfolios. Last year's double-digit declines were difficult but they were also unusual; and were driven primarily by bonds falling alongside stocks as markets priced in aggressive fiscal tightening measures by central banks to tackle inflation.
Much of the policy rate raising is now behind us, and the steep fall in prices mean global equities and bonds are looking much more attractively valued versus this time last year3 . Additionally, higher interest rates mean high-quality bonds will, for the first time in decades, provide a meaningful source of income for balanced investors.
A more normal correlation between stocks and bonds
When inflation unexpectedly deviates from policymakers' targets, like it did in 2022, markets anticipate central banks will take action by raising rates. This leads to a falling bond market as well as higher discount rates, which affects pricing across all asset classes; this resulted in the unusually positive return correlation between stocks and bonds throughout last year.
Looking ahead, the correlation between stocks and bonds might remain positive in the near-term while inflation concerns persist. Yet as the global economy continues to slow and inflation subsides, we expect this positive correlation to reverse, with bonds once again resuming their primary role as a stable hedge against equity volatility in balanced portfolios.
Markets reward discipline
When markets fall, it can be tempting for clients to want to protect their portfolios and take action. Yet there's little evidence that efforts to tactically time a recession—or any other market event—actually reward investors. In fact, quite the opposite.
Whether the euro-area countries or any other country is in a recession, advisers can help their clients avoid overreacting to the latest economic news and staying focused on their well-considered, long-term investment plans.
Revisiting Vanguard's four investment principles can provide a useful reminder of why a disciplined, strategic approach continues to offer investors the best chance of investing success.

1 While there is no universal definition of a global recession, the World Bank defines a global recession as a period in which annual global real GDP per capita declines and there is strong evidence for a broad-based decline in multiple global economic activity indicators (Kose, Sugawara and Terrones, 2020).
2 Based on Vanguard calculations using data from Thompson Reuters, as at 31 November 2022.
3 Source: 2023 Vanguard economic and market outlook; based on data from the Vanguard Capital Markets Model (VCMM) as at 30 September 2022.