By Lucas Baynes, investment strategy analyst, Vanguard Europe
Portfolio rebalancing might seem counterintuitive to some clients, but the recent volatility in global equity markets has served as a timely reminder of the importance of regular rebalancing for long-term investors.
The S&P 500 Index fell more than 9% in the 23 days ending 26 January as the US stock market endured its weakest January since the global financial crisis of 2009. Meanwhile, the MSCI EMU Index lost almost 8% over a similar time frame. Market swings like this are to be expected in equity markets, which are typically more volatile than bond markets.
That's why we generally advocate a balanced portfolio of equities and bonds, commensurate with the investor's tolerance for risk, as bonds have historically offered some protection from equity market downturns1. Without regular rebalancing, however, the ratio of equities to bonds in the portfolio will drift over time given equities have historically outperformed bond markets. This dynamic is demonstrated in the chart below.
Asset allocation will drift over time without rebalancing
Changes in stock exposure for a rebalanced portfolio and a "drifting portfolio," 2003 – 2020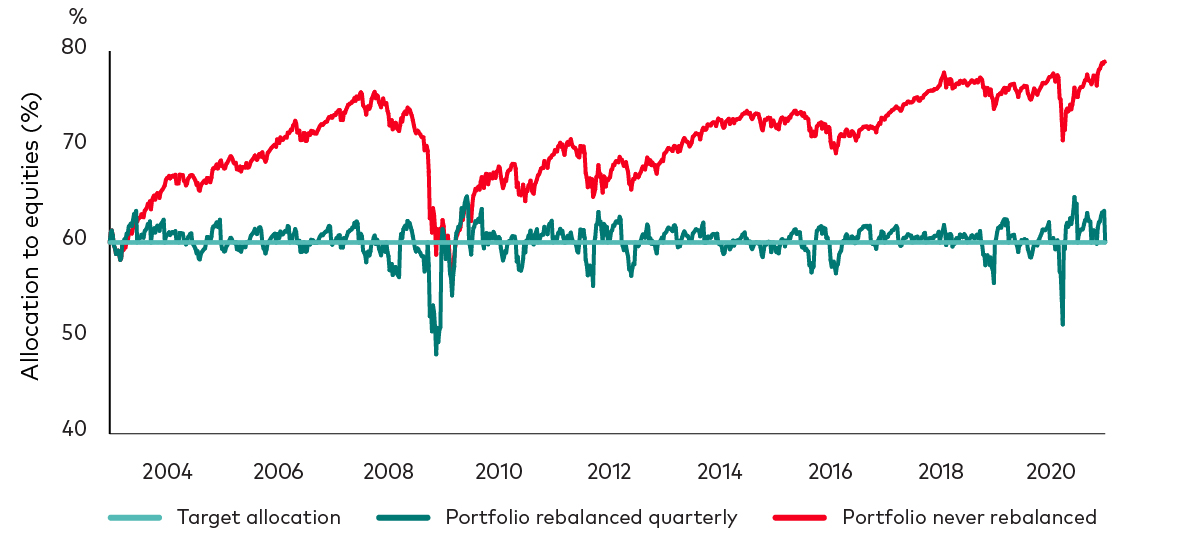 Past performance is not a reliable indicator of future results.
Source: Vanguard calculations as at December 2020, using data from Morningstar, Inc.
Notes: The initial allocation for both portfolios is 42% US stocks, 18% international stocks, and 40% US bonds. The rebalanced portfolio is returned to this allocation at the end of each quarter. Returns for the US stock allocation are based on the Dow Jones U.S. Total Stock Market Index through April 2005 and on the MSCI US Broad Market Index thereafter. Returns for the international stock allocation based on the MSCI All Country World Index ex USA, and returns for the bond allocation are based on the Bloomberg U.S. Aggregate Bond Index. All returns calculated in USD.
This effect is known as portfolio drift and is common during normal market cycles but can become more acute during times of increased volatility. The chart above shows the effect of portfolio drift by comparing the mix of a rebalanced and non-rebalanced portfolio over time, both of which have an initial allocation of 60% to equities and the remaining 40% to bonds. The rebalanced portfolio is returned to its target allocation at the end of each quarter, whereas the non-rebalanced portfolio drifts to approximately 80% equity, greatly changing the risk profile of the portfolio.
Whilst portfolio drift is typically driven by equities, whereby rebalancing often results in a reduction of equity risk, the converse can also apply. When equities fall — such as they did in the early weeks of 2022 — a rebalanced portfolio will consequently reallocate capital to equities to maintain the targeted allocation and remain aligned with the investor's goal.
By allowing portfolio drift, investors may therefore find their portfolios are more sensitive to stock market downturns, or equally are left holding a portfolio which is no longer in line with their investment aims. This is where regular rebalancing can make a difference by keeping investors on track to meet their investment objectives.
Manage risk with rebalancing
It's important to communicate to clients that the objective of rebalancing is to mitigate the risk of portfolio drift and unintended exposure to one asset class over another – it's not about maximising gains. While 'running the winners' might seem intuitive (i.e., keeping hold of the best performing assets), it is often the higher-returning investments that carry the most risk. In other words, a portfolio's best performers today could become the biggest detractors further down the line.
The graphic below shows the best, worst and average returns for different stock/bond allocations over more than a century. It's clear to see that higher expected or average return is accompanied by heightened risk, with one notable possibility being larger drawdowns. However, over time this risk can be mitigated by regular rebalancing to realign with an individual's tolerance.
Historically, higher-return assets have brought increased risk
Best, worst and average returns for various stock/bond allocations, 1901–2021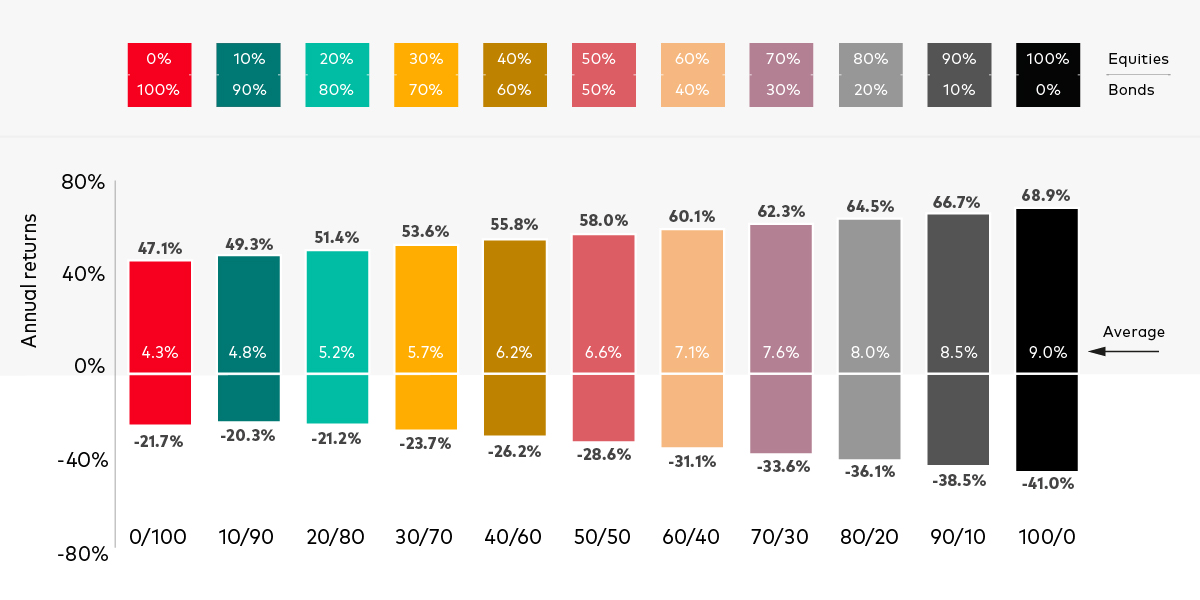 Past performance is not a reliable indicator of future results.
Notes: Reflects the maximum and minimum calendar year returns, along with the average annualised return, from 1901-2021, for various stock and bond allocations, rebalanced annually. Stock returns are represented by the DMS World Equity Total Return Index from 1901 to 1969, and the MSCI World Index thereafter. Bond returns are represented by the DMS World Bond Total Return Index from 1901 to 1999, and the Bloomberg Global Aggregate Index (Euro hedged) thereafter. Returns are calculated in euros (Deutsche mark prior), with income reinvested, to 31 December 2021.
Once clients understand the merits of portfolio rebalancing and are on board, the next step is to decide on the best approach to redress the balance.
Rebalancing options for advisers
The rebalanced portfolio in the first chart uses a simple time-only rebalancing strategy, but more sophisticated approaches are also available to advisers. A time-only strategy will rebalance on a given date, regardless of the relative performance of the portfolio's component assets. In a threshold-only strategy, rebalancing is triggered when a portfolio's asset allocation has drifted by a given amount, say by five percentage points, irrespective of how often this happens.
A strategy combining the two will monitor the portfolio on a given schedule and have pre-set thresholds, but rebalancing will only occur when the two trigger-points cross. Here's a simple breakdown of three common approaches to rebalancing:
Time-only: rebalancing on a set schedule, such as daily, monthly, quarterly or annually.
Threshold-only: rebalancing when a target asset allocation deviates by a predetermined number of percentage points, such as 1%, 5%, or 10%.
Time and threshold: rebalancing on a set schedule, but only if a target asset allocation deviates by a predetermined amount of percentage points, such as 1, 5, or 10 percentage points.
Vanguard research has found that none of the major rebalancing approaches holds a distinct or enduring advantage over the others2. That means the onus is firmly on advisers to identify the most appropriate approach for clients and apply it in a consistent and disciplined manner to give them the best chance of reaching their long-term financial goals. Another way to redress the balance would be to direct any new cash contributions to those holdings that have underperformed.
Ultimately, we believe investors should stick to a long-term investment strategy, which for many multi-asset investors means maintaining discipline with the intended mix of equities and bonds. That's why regular rebalancing is an effective way of keeping clients on track to reach their investment targets.
1 Source: Vanguard calculations, based on data from Bloomberg, L.P. For further information, see Renzi-Ricci, G., and L. Baynes. "Hedging equity downside risk with bonds in the low-yield environment", Vanguard Research, January 2021. Notes: Distribution of German government bond and German corporate bond returns when German equity returns were negative, January 2003 to November 2020. German equities refer to the DAX Index, German government bonds refer to the Bloomberg Germany Government All Bonds Total Return Index, German corporate bonds refer to the Bloomberg Global Credit Germany Total Return Index. All returns in EUR. The results found that government bonds have historically provided higher median returns compared with corporate bonds and cash when equities fall.
2 Source: Vanguard calculations, based on data from FactSet. For further information, see Zilbering. Y., C.M. Jaconetti, and F.M. Kinniry. "Best practices for portfolio rebalancing", Vanguard Research, November 2015. Notes: Comparison of average annualised returns for time-only (at monthly, quarterly, and annual frequencies), threshold-only (after 1%, 5%, and 10% drift), and threshold-and-time (combining time and threshold frequencies) rebalancing strategies on a hypothetical portfolio consisting of 50% global equities and 50% global bonds between 1926 and 2014. No new contributions or withdrawals. Dividend payments were reinvested in equities and interest payments reinvested in bonds. Excluding costs. Global equities were defined as the Standard & Poor's 90 from 1926 until 3 March 1957; the S&P 500 Index from 4 March 1957 until 31 December 1969; the MSCI World Index from 1 January 1970 until 31 December 1987; the MSCI All Country World Index from 1 January 1988 until 31 May 1994; and the MSCI AC World IMI Index from 1 June 1994 until 31 December 2014. Global bonds were defined as the S&P High Grade Corporate Index from January 1926 until 31 December 1968; the Citigroup High Grade Index from 1 January 1969 until 31 December 1972; the Lehman Long-Term AA Corporate Index from 1 January 1973 until 31 December 1975; the Barclays U.S. Aggregate Bond Index from 1 January 1976 until 31 December 1989; and the Barclays Global Aggregate Bond Index (USD hedged) from 1 January 1990 until 31 December 2014.