Commentary by Sarang Kulkarni, lead portfolio manager for the Vanguard Global Credit Bond Fund.
Fixed income markets finished 2021 in an agitated state as investors digested the prospect of higher inflation and more "normal" monetary policy. Many investors will now be wondering what this changing world could mean for bond markets over the coming year and beyond. While challenging markets can be a daunting prospect, they can also create new opportunities, providing fixed income investors stay focused and patient.
Upward pressure on yields
The onset of the Covid-19 crisis in 2020 created a deep and sharp recession. The subsequent recovery was partly accelerated by the large amounts of liquidity that central banks injected into the financial system to bolster markets.
Now, as the continued roll-out of Covid-19 vaccines drives the economic rebound from the pandemic, there is less justification for the continued provision of stimulus. Consequently, major central banks have begun tapering their asset-purchase programmes and signalled that rate hikes are on the way.
In bond markets, this has caused yield curves to start to flatten as short-term rates have risen more than those for longer maturities, and the gradual unwinding of quantitative easing will likely put further upward pressure on bond yields at the short end of the curve.
Bond markets now face the prospect of a protracted period of slowing growth and rising short-term rates. This is the part of the credit cycle where risks start to increase. Rising rates can make cash look more attractive relative to other asset classes, while slowing growth can prompt company managements to increase their leverage through acquisitions, higher-than-normal dividend payments and share repurchases. In this environment, opportunities in credit will be more idiosyncratic than broad-based.
Volatility and dislocation
Inflation—and how central banks respond to it—are among the biggest risks facing bond markets over the coming months. While the path of monetary policy is well telegraphed, the key factor for global credit markets will be how each economy holds up as central bank support measures are removed. Furthermore, if the pace of rate hikes is too fast—if central banks make a policy mistake—the slowdown in growth could be faster than anticipated.
Against this backdrop, fixed income enters 2022 in a somewhat vulnerable condition, and we expect volatility to rise still further over the course of the year.
Volatility is on the rise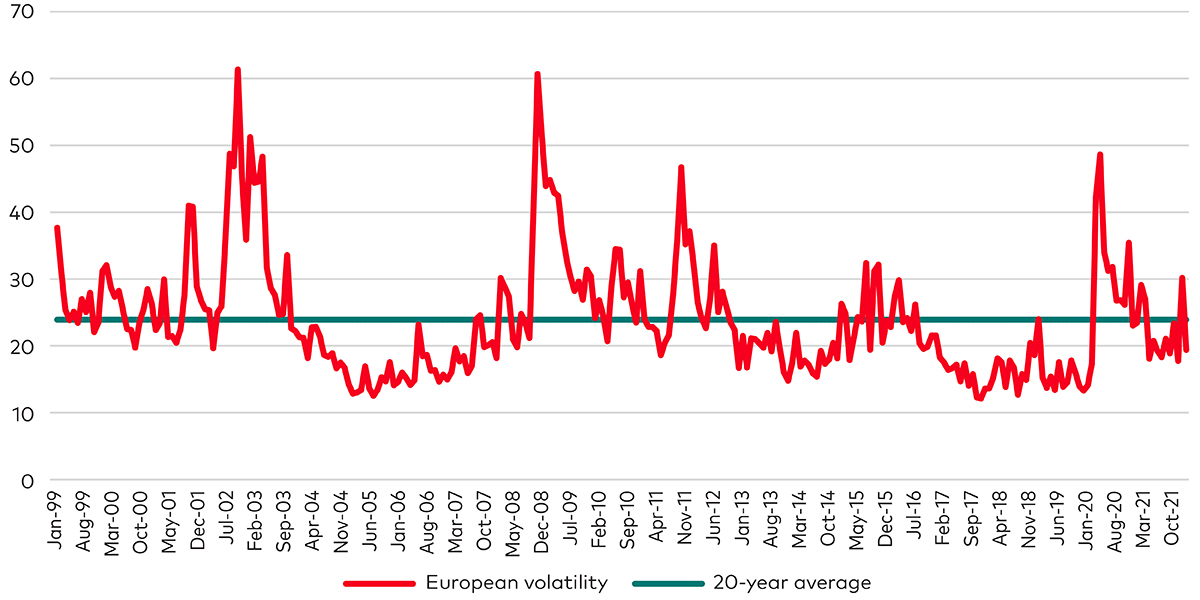 Source: Vanguard, Bloomberg V2X index. Data between 31 January 1999 and 31 December 2021.
Rising rates could weigh on the total return of high-quality credit. A number of credit sectors—such as US technology companies—have benefitted from the benign liquidity backdrop and relatively easy access to funding in recent years. And as monetary policy tightens, equity markets could come under pressure as earnings growth slows, funding costs rise and equity multiples start to normalise. Some high-quality companies have started to take advantage of what may be the end of easy monetary conditions by launching large cash-funded acquisitions that could put pressure on their credit ratings. With spreads for these companies close to all-time tightest levels, the risks are skewed to the downside.
This will also likely lead to increased dislocation in some of the lower-rated segments of the credit market; in other words, there is likely to be a clearer demarcation between those credits with, and those without, adequate liquidity to ride out any large macroeconomic shocks and interest rate volatility.
Amid heightened volatility and dislocation, the underlying risk-return dynamics of active bond portfolios are more likely to be exposed. Making calls on the direction of bond markets in an attempt to generate returns (also known as "levered beta")—which can at times pay off in risk-on scenarios—can fall down in more volatile environments. In contrast, the alpha that investors can derive from fundamental credit research is amplified, adding even more value than it would in less dislocated markets.
A disciplined approach
The best way to navigate bond markets as they stand is by taking a disciplined approach. That is, by having adequate diversification, the patience to await attractive opportunities and a focus on security selection.
We believe the global credit bond universe offers a rich opportunity set in which to generate alpha for investors. As the extensive package of central bank support is removed, fundamental credit analysis is set to play an even more important role in generating returns than we have seen since the onset of the pandemic. Credit research analysts and portfolio managers are in a position to identify the issuers where valuations rely too heavily on low rates and easy funding, and seize the resulting opportunities for risk-adjusted alpha as fundamentals shift.
In our view, now more than ever is the time to derive alpha from genuine security selection across diversified sources, without taking excessive top-down directional risk.
Written in collaboration with Kunal Mehta, Head of Fixed Income Specialist Team, Vanguard Europe.