By Josh Hirt, Roxane Spitznagel and Beatrice Yeo, Vanguard economists.
In the Vanguard Economic and Market Outlook for 2021 we emphasised that global economic recovery from the Covid-19 pandemic would proceed unevenly. Differences in consumption in the United States, the United Kingdom, the euro area and China illustrate our point. They largely reflect differences in the composition of fiscal policy and inform the course of inflation and monetary policy. And they at least partially explain why the course of recovery in one region may not presage the course in others.
An uneven consumption experience across regions

Note: Figures reflect percentage changes in consumption relative to pre-pandemic trends.
Sources: Vanguard calculations, using data from Bloomberg, Macrobond and Refinitiv to 31 March 2021.
Fiscal policy has aided economic recoveries, though its composition has varied. Fiscal policy in the United States put cash directly into individuals' pockets, largely through expanded unemployment benefits that increased disposable income for many. Fiscal policy in China, the euro area and the United Kingdom, which was geared more towards businesses, did less to stimulate demand.
Fiscal support boosts disposable income in the United States
Disposable income percentage change from pre-pandemic trend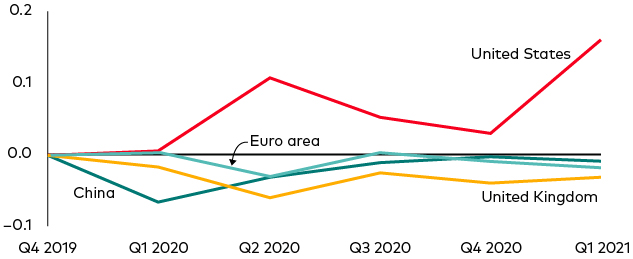 Sources: Vanguard calculations, using data from Bloomberg, Macrobond and Refinitiv to 31 March 2021.
Prices have been pushed up as demand has returned to normal levels amid supply shortages in goods, services and even labour. We foresee core inflation (which excludes volatile food and energy prices) exceeding central bank targets in the United States and the United Kingdom in the months ahead and settling below targets in China and the euro area.
Resurgent demand, supply constraints push up prices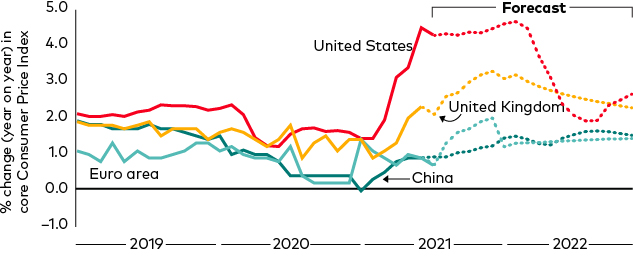 Note: Data and Vanguard forecasts are for year-on-year percentage changes in the core Consumer Price Index, which excludes volatile food and energy prices.
Sources: Vanguard calculations, using data from Bloomberg and Refinitiv. Actual inflation is to July 2021 for the United States and the euro area and to June 2021 for the United Kingdom and China. Vanguard forecasts are presented thereafter.
Rising inflation and improving labour markets as part of the economic recovery set the stage for central banks to slow and then start to reverse the extraordinary loosening of monetary policy introduced during the pandemic. The exception is China, where the policy stance is likely to pivot from tightening in the first half of 2021 to modestly easing in the second half. Growth headwinds have increased in China amid recent outbreaks of the Covid-19 Delta variant and increased regulatory uncertainty in some sectors.

This timetable reflects Vanguard's views on when central banks are likely to adjust policy related to economic recoveries. It's important to understand that meaningful changes to inputs including virus transmission and inflation could cause central banks to act sooner or later, especially related to the pace of asset purchases.
A timetable for removing policy accommodation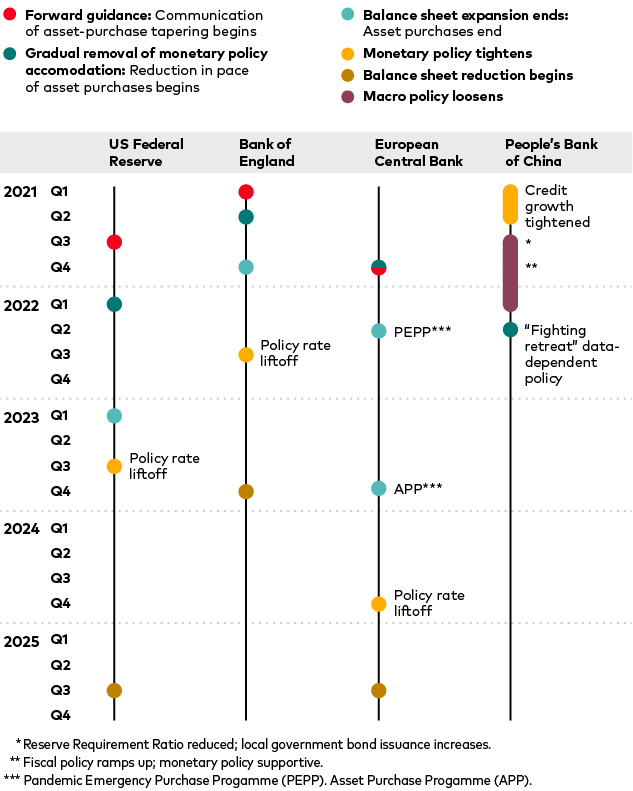 Sources: Vanguard assessments as at 10 August 2021, of actions taken or likely to be taken by the US Federal Reserve, the Bank of England, the European Central Bank and the People's Bank of China.