Economic growth
We've downgraded our outlook for 2022 growth in the United States to around 2% from around 3.5%. A second-half deceleration had been expected, though the pace of slowdown has likely quickened. Still, we believe a 2022 recession remains unlikely.
Data showed the euro area economy in the first quarter grew by 5.4% on a seasonally adjusted basis compared with the previous year, which was higher than previously estimated. However, we continue to expect full-year growth of 2.5% to 3%. We think the likelihood of recession in the next 12 months is less than 50%. This rises to more than 50% over a 24-month window as the potential for global economic headwinds increases. The potential for an abrupt end to Russian natural-gas supplies, in particular, remains an important downside risk.
GDP in the United Kingdom declined for a second straight month in April. It was the first month since January 2021 in which all main sectors detracted from growth. We still expect full-year growth to range from 3.5% to 4% but the risks are pointedly to the downside. A new £15 billion fiscal programme is expected to offset higher inflation for those with the lowest incomes but the broader squeeze on real incomes is likely to reduce spending on discretionary items and be a drag on growth.
Retail sales, industrial production and fixed asset investment all improved in China in May compared with April, although retail sales contracted. The data suggested the start of economic recovery amid a gradual easing of Covid-19 lockdowns, though the virus remains a risk. We have lowered our full-year growth outlook for China to just above 3% – well below the government's target for growth of "around 5.5%".
We have also downgraded our forecast for full-year 2022 growth in emerging markets, from around 5.5% at the start of the year to around 3%. Although higher commodities prices do benefit some emerging economies, they are negative as a whole.
Monetary policy
The US Federal Reserve raised its federal funds rate target by 75 basis points to a range of 1.5% to 1.75%, its largest hike since November 1994. Vanguard sees the Fed's move as a recalibration in the fight against inflation that continues to surprise to the upside. We now expect an additional 150 basis points of tightening in 2022 and expect the Fed's rate target to end the year at 3% to 3.25%. We also expect a peak rate of at least 4% in 2023.
The euro-area's first rate rise since July 2011 appears on the cards next month. The European Central Bank (ECB) signalled a 25-basis-point hike at its next Governing Council meeting on July 21. It left the door open for a bigger increase in September too and ended net purchases under the Asset Purchase Programme after steady reductions in the preceding months. In an emergency meeting, the Governing Council also said it would create a tool to address fast-increasing yields in more vulnerable euro area countries such as Italy. The ECB's main deposit rate is currently negative at minus 0.5%. It was last positive in 2012. We expect rate hikes to bring this up to 0.5%-0.75%. by year-end and to about 2.5% by the end of 2023.
The Bank of England raised its main policy rate for a fifth time in a row, lifting the bank rate by 25 basis points to 1.25%. Three dissenting members of its Monetary Policy Committee wanted a half-point increase. The MPC also signalled that it was prepared to introduce larger rate rises at subsequent meetings, depending on the economic and inflationary outlook. The bank will likely need to hasten the pace of rate increases to clamp down on inflation.
The People's Bank of China (PBOC) cut its five-year-loan prime rate from 4.6% to 4.45%, effective immediately for new home mortgages. The cut in the key rate underlines Vanguard's view that policymakers will need to sacrifice some price and financial stability to maintain China's zero-Covid-19 policy and achieve 2022 target growth of "around 5.5%." We believe it won't be enough in the absence of more aggressive policy easing beyond expected infrastructure investment.
Inflation
The consumer price index in the United States rose by 1.0% in May and by 8.6% compared with a year earlier, higher than gains recorded in recent months. Gasoline, up 49% year-on-year, led the gains. Core inflation, stripping out food and energy prices, rose by 0.6% in the month and 6% year-on-year. However, core PCE (the Federal Reserve's preferred inflation indicator when considering monetary policy) rose by 4.9% in April compared with a year earlier – a second straight month of slower increases.
Headline inflation in the euro area shot up to an all-time high of 8.1% year-on-year in May. Higher energy prices drove the increase, along with prices for unprocessed food. We expect headline inflation to peak at close to 9% year-on-year in the third quarter before settling at year-end around 7.5%. We also continue to expect inflation to fall back toward the ECB's 2% target by the end of 2023.
Headline inflation in the United Kingdom climbed by 9.1% in May compared with May 2021 but rose by 0.7% on the month, the smallest increase in four months. Food and energy prices contributed most to the gains, with the former rising by a 13-year high of 8.5% compared with a year earlier. Services inflation grew by 4.9% year-on-year, a further sign of gains becoming broad-based. We expect inflation to breach 10% in the fourth quarter after the anticipated 42% October increase in a cap on energy prices.
Employment
The United States jobs market kept humming in May, creating 390,000 jobs as the unemployment rate remained steady at 3.6%. The jobs report offered scant evidence to suggest the labour market is cooling.
The unemployment rate in the euro area held steady at 6.8% in April. We expect the region's labour market to remain strong in 2022, with wage pressures building as the job vacancy rate continues to rise.
The unemployment rate in the United Kingdom edged up to 3.8% in the three months to the end of April from 3.7% in the three months through March, while job vacancies in the March-to-May period rose by 20,000 to a record 1.3 million. The pace of growth in vacancies, though, continued to level off. Workers' regular pay in February-April was nominally up 4.2% year-on-year but down 2.2% after adjusting for inflation. Vanguard will continue to monitor the push-pull of wage growth and inflation in assessing the economy's health and the Bank of England's likely rate path.
The points above represent the house view of the Vanguard Investment Strategy Group's (ISG's) global economics and markets team as of 23 June, 2022.
Asset class return outlooks
Vanguard's 10-year annualised outlooks for equity and fixed income returns are unchanged since the May 2022 economic and market update. The probabilistic return assumptions depend on market conditions at the time of the running of the Vanguard Capital Markets Model® (VCMM) and, as such, can change with each running over time. ISG updates these numbers quarterly.
The projections listed below are based on the 31 March, 2022, running of the VCMM. Projections based on a partial 31 May, 2022, running of the VCMM will be communicated through a mid-year update to the Vanguard Economic and Market Outlook for 2022.
Projections based on a full 30 June, 2022, running of the VCMM will be communicated through the August 2022 economic and market update. Our 10-year annualised nominal return projections are as follows. Please note that the figures are based on a 1-point range around the 50th percentile of the distribution of return outcomes for equities and a 0.5-point range around the 50th percentile for fixed income. Numbers in parentheses reflect median volatility.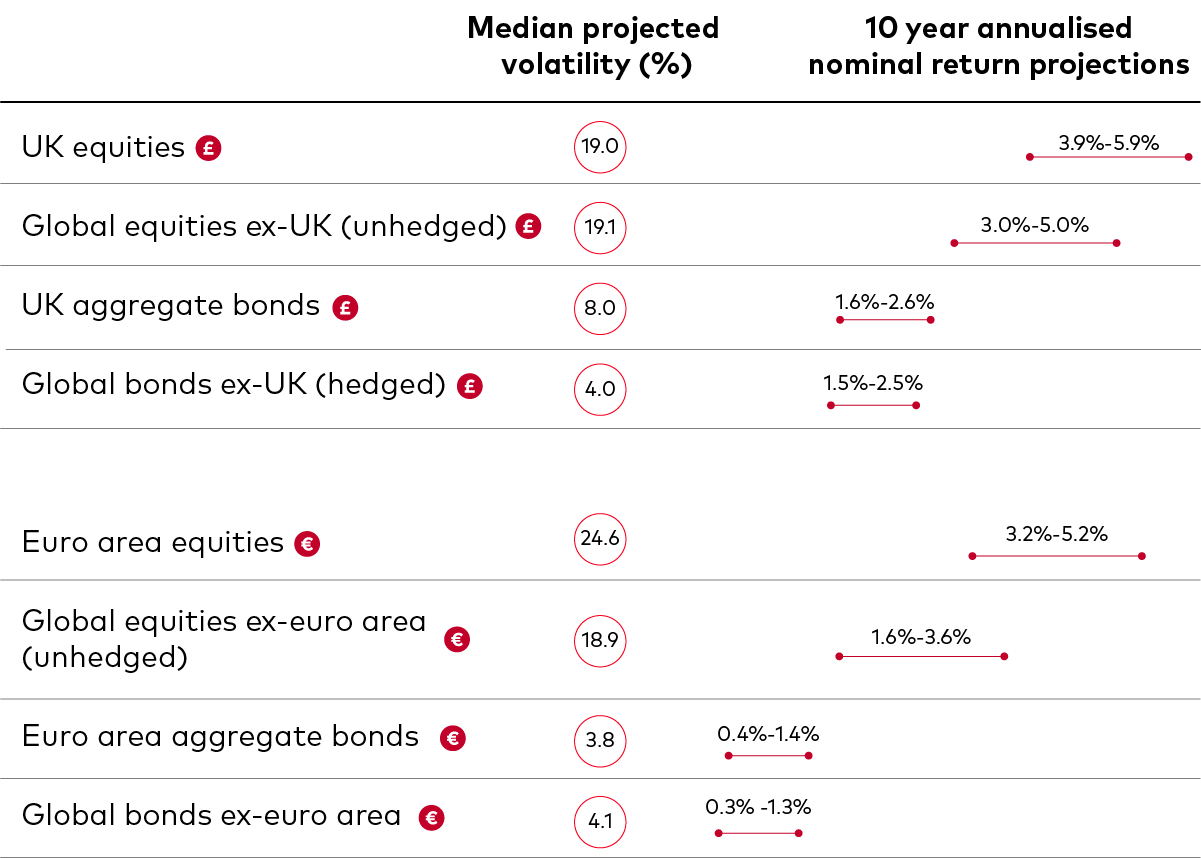 IMPORTANT: The projections or other information generated by the Vanguard Capital Markets Model regarding the likelihood of various investment outcomes are hypothetical in nature, do not reflect actual investment results, and are not guarantees of future results. Distribution of return outcomes from the VCMM are derived from 10,000 simulations for each modeled asset class. Simulations are as of 31 March, 2022. Results from the model may vary with each use and over time.
The VCMM projections are based on a statistical analysis of historical data. Future returns may behave differently from the historical patterns captured in the VCMM. More important, the VCMM may be underestimating extreme negative scenarios unobserved in the historical period on which the model estimation is based.
The Vanguard Capital Markets Model® is a proprietary financial simulation tool developed and maintained by Vanguard's primary investment research and advice teams. The model forecasts distributions of future returns for a wide array of broad asset classes. Those asset classes include US and international equity markets, several maturities of the US Treasury and corporate fixed income markets, international fixed income markets, US money markets, commodities, and certain alternative investment strategies. The theoretical and empirical foundation for the Vanguard Capital Markets Model is that the returns of various asset classes reflect the compensation investors require for bearing different types of systematic risk (beta). At the core of the model are estimates of the dynamic statistical relationship between risk factors and asset returns, obtained from statistical analysis based on available monthly financial and economic data from as early as 1960. Using a system of estimated equations, the model then applies a Monte Carlo simulation method to project the estimated interrelationships among risk factors and asset classes as well as uncertainty and randomness over time. The model generates a large set of simulated outcomes for each asset class over several time horizons. Forecasts are obtained by computing measures of central tendency in these simulations. Results produced by the tool will vary with each use and over time.