Key points:
The UK's Bank of England raised interest rates amid accelerating inflation and a strengthening labour market.
US growth slowed in the third quarter as supply constraints took their toll, although growth appears to have stabilised in the fourth quarter.
Despite keeping its federal funds rate unchanged, the US Federal Reserve said it would accelerate the schedule to end its bond-buying programme—a likely precursor to the start of rate hikes in 2022.
Vanguard continues to expect full-year 2022 growth of around 4% in the euro area and around 5.5% in the UK, in spite of an increased incidence of Covid-19.
Economic growth
The economy in the United States grew at an annual rate of 2.1% in the third quarter, according to the second of three estimates from the Bureau of Economic Analysis, down from 6.7% in the second quarter as labour and non-labour supply constraints took their toll. Growth appears to have stabilised in the fourth quarter, and we continue to see fourth-quarter growth around 5.5%. We expect the economic recovery to continue in 2022, though at a naturally slower pace as the easiest gains will already have been captured. We foresee growth of around 4% for 2022.
Increased incidence of Covid-19 has led to a pullback in activity and consumer confidence and increased restrictions in the euro area. With the pullback, Vanguard has moderately reduced our expectations for growth in the fourth quarter of 2021 and the first quarter of 2022 by 20 basis points each, to 0.7% and 0.6%, respectively, on a seasonally adjusted quarter-on-quarter basis. We haven't, however, lowered our full-year 2022 forecast for growth of around 4% as we expect the lost ground to be regained in succeeding quarters. The euro area economy grew by 2.2% in the third quarter compared with the second quarter, the European Union's statistical agency confirmed on 7 December, and by 3.9% compared with the third quarter of 2020.
Resurgent Covid-19 cases have led us to trim our growth forecasts for the United Kingdom in the fourth quarter of 2021 and the first quarter of 2022, though to a lesser extent than in the euro area given greater levels of immunity and booster uptake in the United Kingdom. We continue to foresee full-year 2022 growth of around 5.5% as activity would shift into subsequent quarters. Such a growth level would still leave the United Kingdom shy of its pre-pandemic growth trajectory—the level of GDP we would have anticipated in the absence of the pandemic. But the fast-spreading Covid-19 Omicron variant—with estimates of new infections around 200,000 per day—raises the prospect of potential further government restrictions on activity.
A reserve requirement ratio cut effective on 15 December and other recent measures mark the start of a macroeconomic easing cycle in China as the country confronts growth headwinds. In addition to the 50-basis-point cut to a system-wide average of 8.4% in the percentage of assets that banks must hold in reserve, China cut a re-lending rate for small and medium enterprises and agricultural firms. The reserve ratio cut released CNY 1.2 trillion (about USD 188 billion) in liquidity. Meanwhile, local government special bond issuance has accelerated to more than 90% of an annual quota.
The moves balance out risks to Vanguard's below-consensus view of China's growth in 2022. We foresee growth of around 5% as uncertainty related to the government's "zero-Covid" lockdown strategy will only be magnified by deepening regulatory restrictions. We expect the government to target growth of around 5% to 6% for 2022; as such, we anticipate that it will need to tolerate a more tepid recovery or further accelerate the timing, pace and magnitude of stimulus measures. We believe the latter is more likely as China shifts its policy focus towards stabilising growth ahead of the 20th Party Congress and its five-year leadership transition, set to occur in October and November 2022.
Although we expect growth in emerging markets to outpace that in developed markets, our forecasts for 7% growth in 2021 and 5.5% growth in 2022 appear relatively sluggish in the context of the deep 2020 downturn and a strong pre-Covid 19 emerging markets growth trend. We expect commodity prices to remain elevated in 2022, a boost to emerging markets broadly, but overall risks to our forecast are skewed to the downside. Continued virus vulnerability, especially in emerging Asia with its low levels of infection-acquired immunity, could hinder growth. The greater downside risk, however, is the potential of earlier-than-expected developed-market monetary policy tightening. Hawkish signals from developed market central bankers have triggered sell-offs in emerging market assets, including currencies. Financial conditions could tighten further, crimping emerging market growth prospects, with earlier- or larger-than-anticipated Federal Reserve rate hikes.
Monetary policy
The Federal Reserve (Fed) left the target range for its federal funds rate unchanged at 0% to 0.25% at its meeting on 15 December but said it would accelerate the schedule to end its bond-buying programme—a likely precursor to the start of rate hikes. The Fed's "dot-plot", a collective view of Fed officials' individual assessments, suggests the Fed is prepared to raise rates by 0.75 percentage point in both 2022 and 2023.
The Bank of England (BOE) voted at its meeting on16 December to raise its bank rate by 15 basis points to 0.25%, as Vanguard expected, and to maintain its asset-purchase programme at current levels. The bank noted that the labour market "has continued to tighten, and there are signs of greater persistence in domestic cost and price pressures". Acknowledging slower growth and Covid-19 uncertainty, the bank said data around accelerating inflation and a strengthening labour market pointed to a need to raise rates now to return inflation sustainably to the bank's 2% target. The bank particularly noted there was little evidence that the end to the government furlough scheme on 30 September had caused any weakening in the labour market. The bank left the target for its stock of government bonds at £875 billion and for investment-grade corporate bonds at £20 billion, in essence signalling an end to its asset purchases as the facility had reached those levels as at the December policy meeting.
The European Central Bank (ECB) left its main deposit rate unchanged at negative 0.50% at its meeting on 16 December but said it would end its pandemic asset-purchase programme in March 2022, as Vanguard expected. The bank's Governing Council noted that progress on economic recovery and towards its medium-term inflation target allowed for a reduction in purchases in the coming quarters. But it said accommodation remained important for inflation to stabilise around its 2% target in the medium term. The bank said it would conduct net asset purchases under the Pandemic Emergency Purchase Programme (PEPP) at a lower level in the first quarter of 2022 than in the current quarter and discontinue such purchases by the end of March. It said it would reinvest principal payments from maturing PEPP securities at least until the end of 2024. The bank will maintain policy accommodation during the economic recovery from the pandemic through continued asset purchases under the separate Asset Purchase Programme (APP). It said that it would increase purchases under the APP to €40 billion a month in the second quarter of 2022 from a current €20 billion, reducing the level to €30 billion in the third quarter and to €20 billion as long as needed thereafter "to reinforce the accommodative impact of its policy rates". Vanguard believes that, with Europe on a slower growth and inflation trajectory than the United Kingdom, the ECB won't raise its policy rate until 2024.
Central banks in most emerging markets have begun a tightening cycle and are expected to continue raising rates in 2022. Vanguard expects that such efforts to counter inflation in these regions alongside gradually easing global supply constraints and waning developed-market fiscal impulses should cool inflationary pressures by late 2022.
US government funding
A US government shutdown was averted when the president on 3 December signed a continuing resolution to fund the government until 18 February. Meanwhile, the president is expected to sign a bill on 16 December to increase the US debt ceiling by $2.5 trillion, allowing the government to pay its bills until January 2023. The debt ceiling, at $28.9 trillion before the latest increase, is the limit to what the government is allowed to borrow to pay for obligations already incurred.
Inflation
Headline inflation in the United States—as measured by the Consumer Price Index—reached 6.8% in November compared with November 2020, the highest level since June 1982. The index was up 0.8% on a seasonally adjusted basis from October. Petrol and fuel oil, both up more than 58% compared with a year earlier, led the rise. Core CPI, which strips out volatile food and energy prices, rose 4.0% year-on-year and 0.5% from October. Vanguard estimates that the effects from supply constraints will persist well into early 2022 before inflation normalises gradually towards the pre-pandemic trend. We foresee inflation remaining elevated before slowing in the second half of 2022, bringing the Core Personal Consumption Expenditures Price Index for year-end 2022 in the range of 2.3%–2.6% year-over-year. Core PCE, the Fed's favored measure in informing policy decisions, rose 4.1% in October compared with October 2020.
Headline inflation in the euro area is likely to have risen to 4.9% in November compared with November 2020, from a 4.1% year-on-year gain in October, according to a 30 November flash estimate by Eurostat, the European Union's statistical agency. Core inflation, which excludes volatile food and energy prices, is estimated to have climbed to 2.6%, higher than a 2.1% reading for October. Energy prices continued their upward march, estimated to have risen by 27.4% year-on-year in November, from 23.7% in October. Inflationary pressures have been predominantly concentrated in the goods sector but are now becoming a bit more broad-based. Our view is that inflation will be lower at the end of 2022 than at the beginning, as temporary factors will likely unwind, but that it will remain slightly elevated compared with its historical level. A risk to this view is if price pressures feed into expectations and wage negotiations, which could fuel a more persistent increase in inflation and put pressure on central bank policy.
Headline inflation reached 5.1% in November in the United Kingdom compared with a year earlier, higher than the 4.2% year-on-year increase in October and a 10-year high. Headline inflation was up by 0.7% compared with a month earlier, less than the 1.1% month-on-month rise in October. Energy price inflation, at 23.2% year-on-year, contributed to much of the headline inflation pressure. Core inflation, which excludes volatile food and energy prices, rose to a three-decade high of 4.0%. Vanguard expects headline and core inflation to peak in the first half of 2022, later than in the euro area as a government energy price cap is expected to rise in April. We then expect both core and headline inflation to ease over the rest of 2022 as factors currently boosting energy prices normalise and worker shortages ease following the recent end of the government's furlough scheme. We anticipate headline and core inflation around 2.5% by the end of 2022.
Employment
The labour market in the United States remained strong in November, despite a much-lower-than expected headline number of 210,000 jobs created. The unemployment rate fell significantly, from 4.6% to 4.2%. The monthly labour market report is informed by two distinct surveys that sometimes send conflicting signals. The household survey of individuals, which yields the unemployment rate, suggested that 1.1 million jobs were created in November, and Vanguard believes the November report indicated a strong labour market.
Unemployment in the euro area continued to inch downwards, to 7.3% in October on a seasonally adjusted basis compared with 7.4% in September. The year-earlier unemployment rate was 8.4%.
The unemployment rate in the United Kingdom fell to 4.2% in the three months to October, from 4.3% in September, the Office for National Statistics reported on 14 December. November data pointed to continued strength in the labour market and a so-far-limited impact from the furlough scheme's end on 30 September, with employment up by 257,000 compared with October and by 424,000 compared with February 2020, before the pandemic. Job vacancies in the September-to-November period rose to a record 1,219,000, with 13 of 18 sectors at record highs. The rate of growth in vacancies slowed in the quarter, however. Wages including bonuses were up by 4.9% in the August-to-October period compared with a year earlier.
Asset class return outlooks
Vanguard's 10-year annualised outlooks for equity and fixed income returns are unchanged since the November 2021 economic and market update. The probabilistic return assumptions depend on market conditions at the time of the running of the Vanguard Capital Markets Model® (VCMM) and, as such, can change with each running over time.
ISG updates these numbers quarterly. The projections listed below are based on the 30 September 2021 running of the VCMM. Projections based on the 31 December 2021 running of the VCMM will be communicated through the February 2022 economic and market update.
Our 10-year annualised nominal return projections are as follows. Please note that the figures are based on a 1-point range around the 50th percentile of the distribution of return outcomes for equities and a 0.5-point range around the 50th percentile for fixed income. Numbers in parentheses reflect median volatility.
The points above represent the house view of the Investment Strategy Group's (ISG's) global economics and markets team as of 16 December 2021.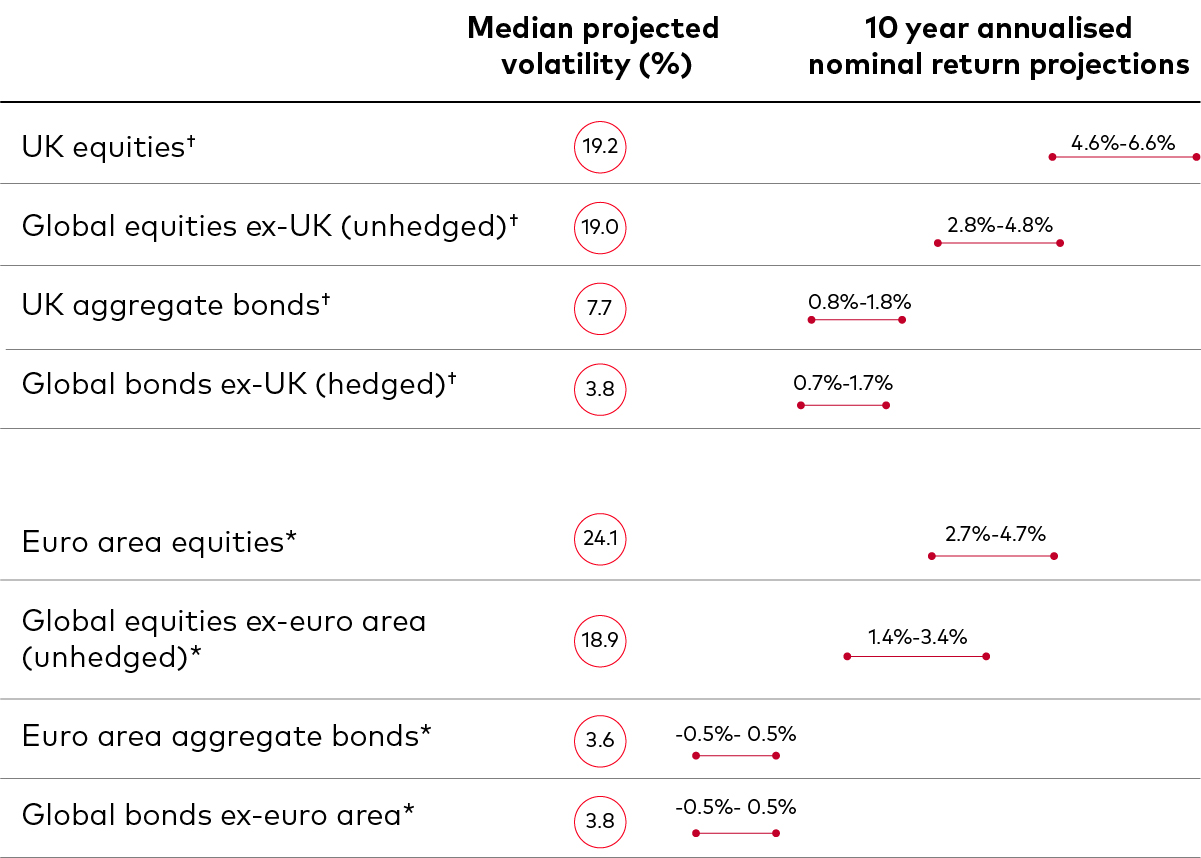 Note:† return projections are calculated for British pound investors. * return projections are calculated for euro investors.
Any projections should be regarded as hypothetical in nature and do not reflect or guarantee future results.
IMPORTANT: The projections or other information generated by the Vanguard Capital Markets Model regarding the likelihood of various investment outcomes are hypothetical in nature, do not reflect actual investment results and are not guarantees of future results. Distribution of return outcomes from the VCMM are derived from 10,000 simulations for each modeled asset class. Simulations are as of 30 September 2021. Results from the model may vary with each use and over time.
How will the global economy fare in 2022? Will inflation readings continue to climb? How will equity and bond markets behave next year and beyond? Read the Vanguard economic and market outlook 2022: Striking a better balance to find out more.