Although the slowdown in Europe could be shallower than previously forecast as natural gas prices slide, the broader fight against inflation continues apace, meaning further monetary tightening remains likely, not least in the United States, where jobs-market strength continues to surprise.
A stunningly strong January labour market report showed that the Federal Reserve (Fed) still has work to do. The United States economy created 517,000 jobs in January – the highest monthly number since July 2022, when the US central bank's policy interest target range was more than two percentage points lower than it is now at 4.5%-4.75%.
Clearly, the Fed's near year-long cycle of aggressive rate hikes hasn't materially affected the jobs market yet, with the US unemployment rate falling to a 54-year low of 3.4%. With the US consumer price index increasing by 0.5% in January on a seasonally adjusted basis compared with December, we also expect US inflation to remain elevated throughout the first quarter.
Restrictive monetary policy takes time to work through an economy, however, and we anticipate a transition to job losses in the second half of the year, with the unemployment rate rising towards 5% by the end of 2023 and the Fed increasing its rate target to a range of 5%-5.25% over its next two meetings. We expect the Fed to keep it at this level throughout 2023 as the pace of inflation gradually subsides.
We've upgraded our 2023 growth forecast for the euro area to 0% from our previous view of a 0.5%-1% contraction. We've also downgraded our forecast for average euro area inflation in 2023 to 4.5% from a previous 6.1%. Fast-falling natural-gas prices, a resilient industrial sector and a reopening of China's economy are helping to mitigate the challenging economic outlook.
The underlying momentum is weak, however, and we continue to expect a recession beginning this quarter that lasts two quarters.
We also still expect the European Central Bank to raise its main deposit facility rate to 3.5% in the second quarter of 2023, with two 25 basis-point increases to follow the 50 basis-point increase already signalled for March. Rate cuts are unlikely, we believe, until the second half of 2024 at the earliest.
In the United Kingdom, we expect the Bank of England (BOE) to raise its main policy rate further, to a high of 4.5% in May, and to keep it at this level until the second half of 2024. That contrasts with current market expectations for rate cuts in the second half of 2023.
The impact of higher rates on the UK housing market is already clear to see, with mortgage approvals falling to their lowest level since May 2020. However, rising wages will likely continue to play into the BOE's decision-making as it battles to continue bringing down inflation, which eased moderately to 10.1% in January. Average regular pay (excluding bonuses) increased by a greater-than-expected 6.7% in the three-month period ended in December and the jobs market remains tight, even though the economy narrowly avoided a recession in the fourth quarter.
Vanguard believes that a UK recession has likely begun this quarter and will persist through to the end of the third quarter of 2023.
After two years of widespread lockdowns, China has rapidly moved away from its zero-Covid policy. As we saw in developed markets, though to a lesser degree, we expect China's consumers to spend some of the excess savings built up during the pandemic. The effect will likely boost domestic growth and reduce the likelihood of global recession.
It could also boost growth in emerging markets, particularly in Asia, and support exporters in the euro area.
The points above represent the house view of the Vanguard Investment Strategy Group's (ISG's) global economics and markets team as of 15 February, 2023. For a deeper dive into our economists' latest thinking, please read the full report.
Asset-class return outlook
Vanguard has updated its 10-year annualised outlooks for broad asset class returns through the most recent running of the Vanguard Capital Markets Model® (VCMM), based on data as of 31 December 2022.
Global equity outlooks are mostly lower compared with the period ended 30 September 2022, as valuations increased in a strong fourth quarter, especially in Europe1.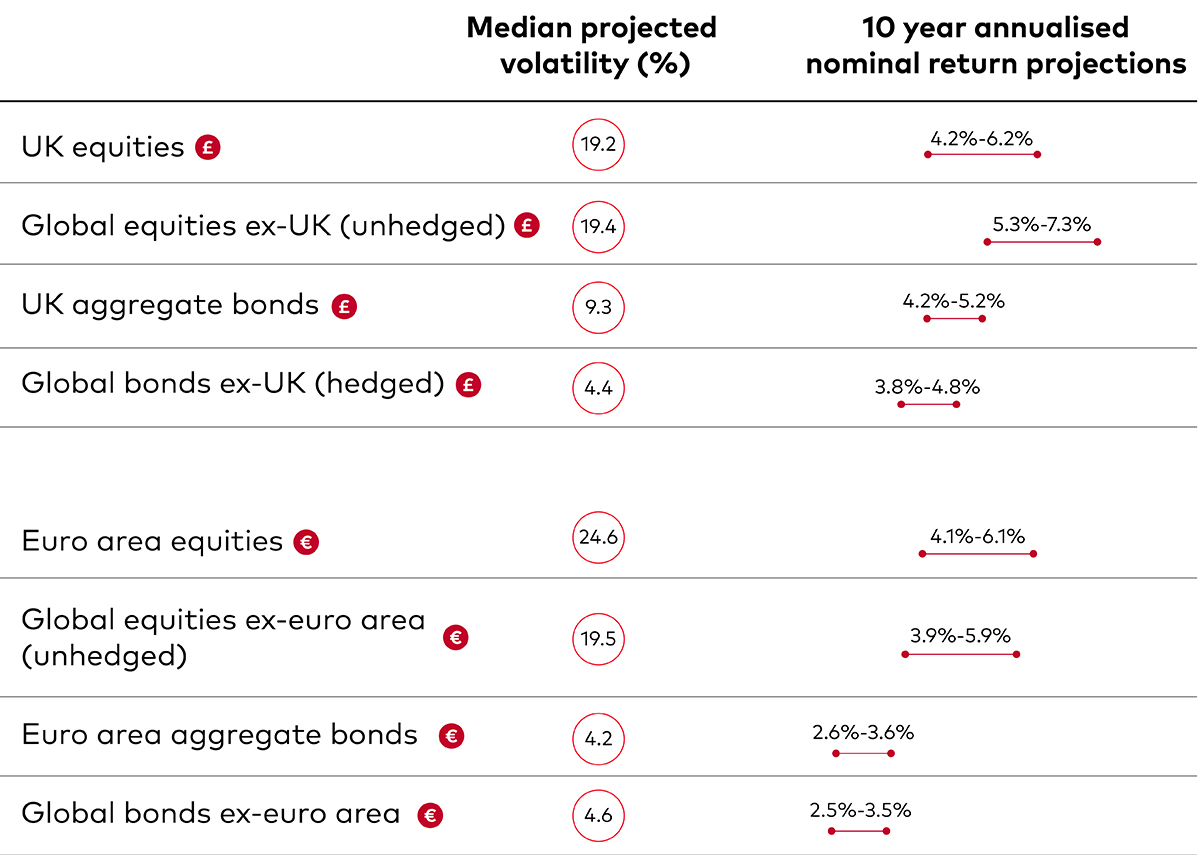 1 The probabilistic return assumptions depend on market conditions at the time of the running of the Vanguard Capital Markets Model® (VCMM) and, as such, can change with each running over time.
ISG updates these numbers quarterly. The projections listed above are based on a running of the VCMM based on data as of 31 December, 2022. Please note that the figures are based on a 2-point range around the 50th percentile of the distribution of return outcomes for equities and a 1-point range around the 50th percentile for fixed income. Numbers in parentheses reflect median volatility.
IMPORTANT: The projections or other information generated by the Vanguard Capital Markets Model regarding the likelihood of various investment outcomes are hypothetical in nature, do not reflect actual investment results, and are not guarantees of future results. Distribution of return outcomes from the VCMM are derived from 10,000 simulations for each modeled asset class. Simulations are as of 31 December, 2022. Results from the model may vary with each use and over time. For more information, please see the Notes section.