By Roxane Spitznagel, economist, Vanguard Europe
The European Central Bank (ECB) adopted a more hawkish tone at its 3 February meeting, which suggests an important policy shift and reversal of recent communications. In particular, President Christine Lagarde refused to repeat her December assertion that a 2022 rate hike would be "very unlikely".
Markets have since reacted and by Monday were pricing in a 10-basis-point hike as early as June, with the expectation that the ECB's deposit rate, currently negative, will reach zero around the turn of the year. The spread on 10-year Italian government bonds over their German bund counterparts has also widened by around 27 basis points over this period.
Inflation continues to surprise to the upside. Headline inflation reached 5.1% year-over-year in January. This marks the highest reading since the formation of the euro area in 1999. While higher inflation has been predominantly driven by higher energy prices, it has also broadened across sectors with 15 out of 18 sectors – from vehicles and food to transport and hospitality – recording inflation above their 2013 to 2019 averages1.
Given these developments, we have raised our forecast for inflation in the euro area. Even so, we still expect inflation to decline over the course of 2022 as energy prices start to decelerate and supply bottlenecks gradually unwind. Our raised forecast pushes headline inflation above 2.5% for the rest of 2022 after which we expect inflation to settle around the ECB's 2% target at the end of 2023.
We expect euro-area inflation to fall back to target in 1-2 years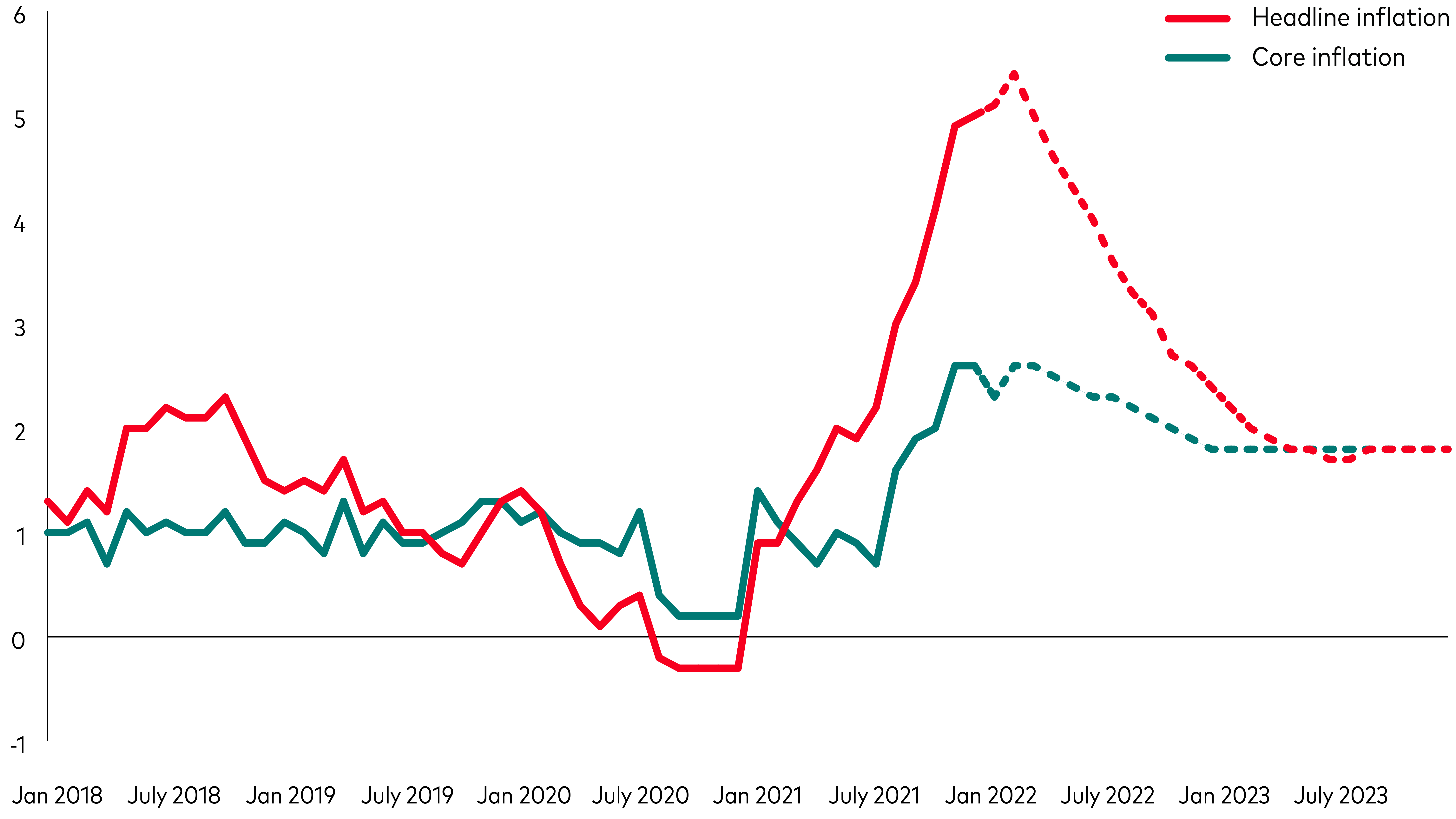 Source: Vanguard and Bloomberg. As at 14 February 2022.
Is it supply, is it demand?
Whether high inflation is driven by the supply side (such as global supply constraints) or whether it is demand-driven is crucial for the future path of monetary policy. While monetary policy can have a strong impact on demand-driven inflation, its impact on inflationary pressures coming from supply constraints is more limited.
The euro area is in a different situation than the US and UK. As our inflation forecast shows, we still see the factors driving inflation in the euro area as largely temporary. By contrast, US inflation has been reinforced by demand-driven price pressures, as the US economy has recovered much more strongly than the euro area.
For instance, the return to trend growth in the euro area after the Covid-19 shock has been much slower than in the US, particularly due to less expansive fiscal policy and more modest consumption growth. In the US, we even expect GDP growth to overshoot the pre-Covid trend, as illustrated below.
US to overshoot pre-pandemic trend, while euro area GDP is still catching up
GDP in levels, US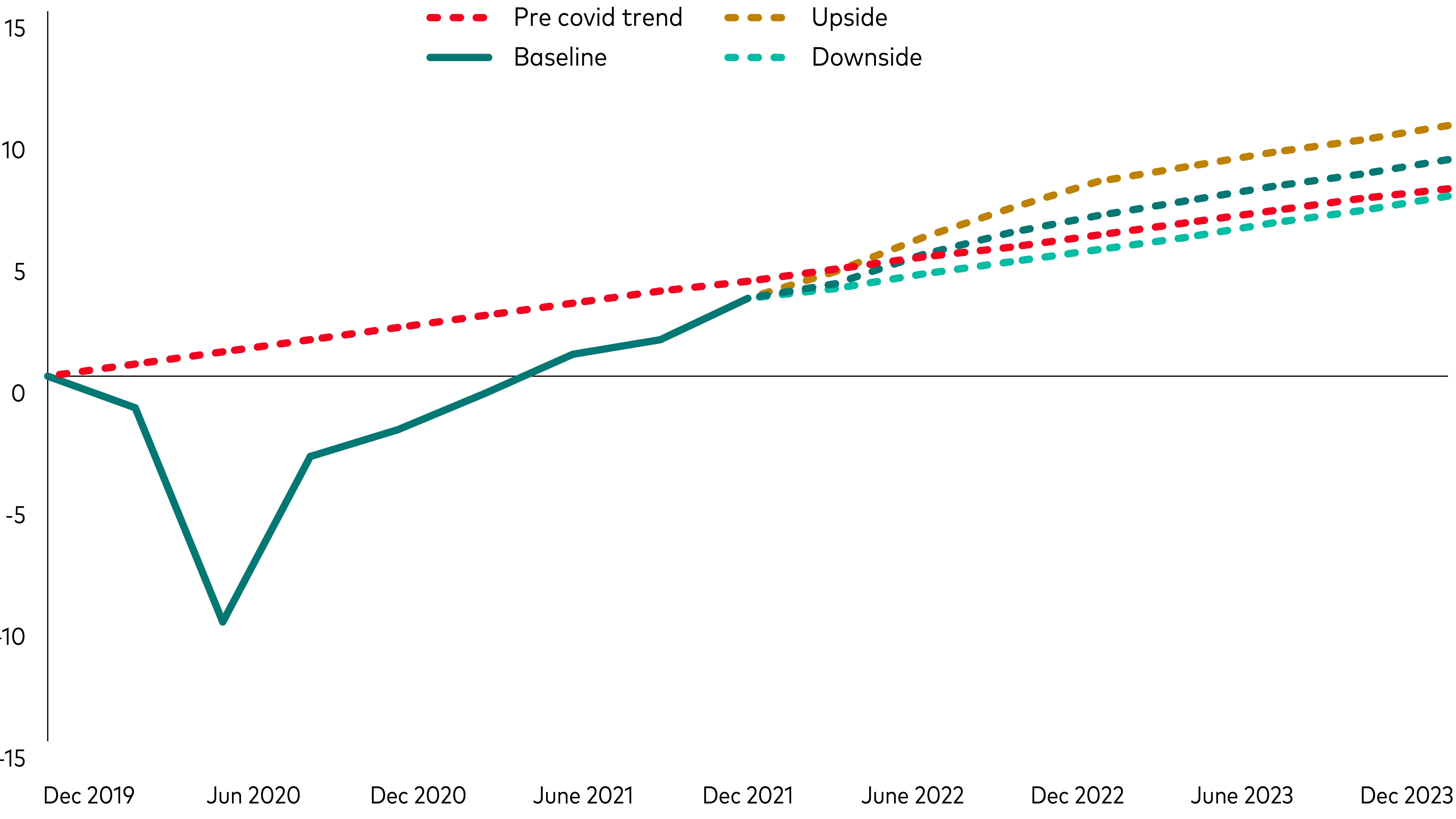 GDP in levels, euro area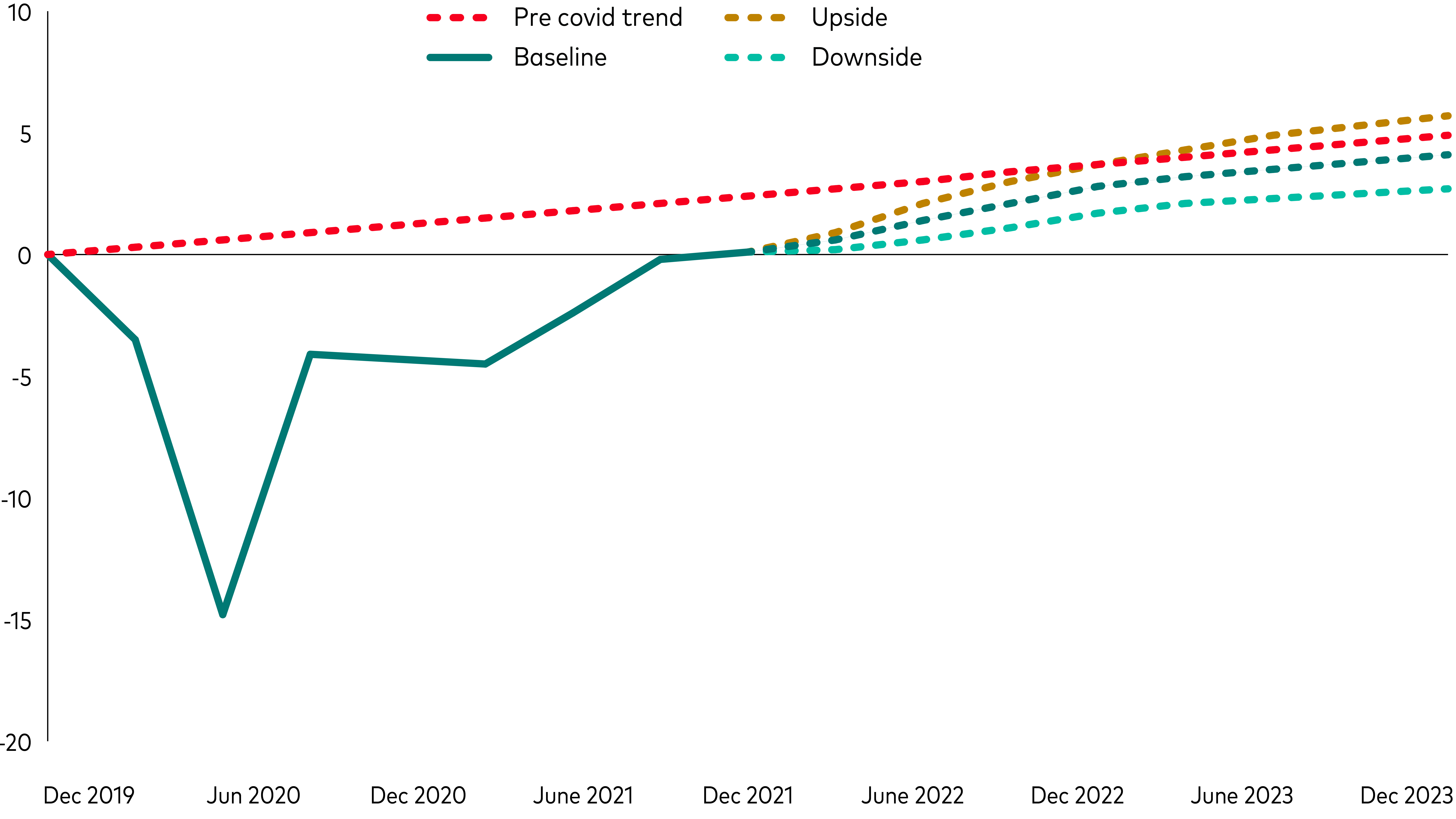 Source: Vanguard, Bloomberg, Eurostat and Refinitiv, as at 14 February 2022.
Another reason relates to the labour market. Euro area labour markets in aggregate are less tight than in the US and UK. Euro area labour force participation has returned to its pre-pandemic level and wage growth is still moderate in comparison.
That sanguine picture, particularly in comparison with the US, supports the thesis that any persistent inflationary pressure in the euro area is limited for now. It justifies the overall more dovish outlook for the ECB compared with the Federal Reserve or Bank of England.
What this means for ECB policy
We expect wage growth to pick up in the euro area but to a lesser extent than in the US or UK. If elevated inflation persists a little longer – even if it is ultimately temporary and largely driven by the supply side – workers may be prompted to demand higher wages. This would stoke demand and further push up prices.
That was a concern also voiced by ECB President Lagarde at her press conference on 3 February2.
Given the ECB's more hawkish recent communication, we now expect it to end its Asset Purchase Programme (APP) early, perhaps as early as June 2022. This will pave the way for rate rises in the second half of the year. In our base case, we are pencilling in a 25-basis-point hike in December.
Markets are currently still pricing in a June hike, which we believe is likely too soon. Our view was underscored by post-meeting ECB communications which seemed to lack urgency compared with the press conference. For instance, Klaas Knot, a typically more hawkish member of the ECB's governing council, explicitly stated that he expected a first rate hike in the fourth quarter of 20223.
What this means for investors
Like other central banks, the ECB is starting to normalise monetary policy after years of providing extraordinary policy support. As we have noted for some time now, this will provide a challenging market environment for investors, particularly with share valuations stretched in some markets and bond yields low.
That is why it is important to be realistic about stock market returns going forward. While we remain positive about the investment outlook, we also caution against simply expecting a repeat of 2021's heady gains.
We think euro investors can expect 10-year annualised returns ranging from 2.7% to 4.7% for euro area equities, and 1.4% to 3.4% for global equities excluding the euro area. Our forecasts confirm that a globally diversified portfolio with a strategic tilt towards euro area equities should reward investors over the long run.
As in any environment, investors will benefit from staying focused on their goals and having an investment portfolio that is appropriately balanced and diversified.
1 As at latest available data from December 2021.
2 Monetary policy statement press conference
3 ECB's Knot sees first interest rate hike in fourth quarter of 2022